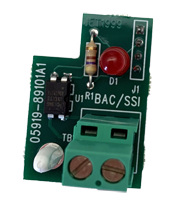 E3K Pulse Output Board for EMON 3000
The E3K Pulser is a small low-cost, fully compatible pulse output device for the Emon 3000.
The pulse is passed through to a Form A (2-wire) dry-contact, solid-state relay.  A 4-position rear-mounted connector plugs into the EMON 3000's main board.  A 2-wire output connector allows wires to be terminated for a cable to the pulse receiving device.  Active pulses are shown by a small Red LED, which also indicates that the solid-state relay's contacts are closed.  In this way, the user has a visual indication of the pulse being outputted for easy testing and troubleshooting.  The E3K's small "L"-shaped PC board makes mounting fast and easy.
It mounts with a small non-conductive standoff using double-sided tape to mount and maintain its mounting location.  No programming or settings are required.