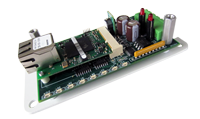 PMC-1 Pulse-to-Modbus Converter
The PMC-1 Pulse-to-Modbus Converter is a device designed to read, record and store pulses from two 2-Wire KY pulse inputs and provide access to the energy use and demand information using the Modbus TCP protocol. Pulse inputs are recorded in the count register and the equivalent energy value is calculated and recorded in the energy use register. The PMC-1's inputs provide a +13VDC wetting voltage for the meters' dry-contact outputs. Upon receiving each pulse from the meter, the PMC-1's microcontroller converts the pulse to the kWh value and adds it to the energy use register. The instantaneous, average and peak demand (kW) are also captured and available in three separate registers for each channel. Average and Peak Demands are based on a 15 minute demand interval.
Energy use information collected and stored in non-volatile memory and accessible by using the RJ-45 Ethernet connection of the PMC-1. The Modbus protocol allows accessing the specific PMC-1 device using a unique IP address, and the register for the information of the pulse channel desired. A RS-232C DB9 serial port allows quick programming of the IP address and pulse value. A master reset capability allows all registers to be cleared.
The PMC-1's bright red LED lamps indicate the Pulse input's status at all times. Eight additional green LED's indicate device and network status.
Read-only Registers accessible for each channel are:
Cumulative energy since last reset or rollover (kWh)
Instantaneous Demand (kW)
Average Demand (kW)
Peak Demand since last reset (kW)
Time since last power up (seconds)
Pulse Count since last reset (number)
Programmable values are:
Pulse Constant (kWh/pulse) for each channel
Pulse Value Type (2-wire or 3-wire)
Reset all registers
Typical applications include:
Provide real-time energy and power measurements for Energy Management Systems, Dashboards, software applications or web clients
Access, View and Track Energy Use and Demand information
Generate interval data and load profiles
Demand Response program monitoring
Utility submetering (electricity, gas, water, etc.)
M&V Measurement and Verification of Energy Efficiency Measures
Utility meter Verification
Specifications
Electrical
Power Input:
120VAC by 12VAC wall transformer (included); Burden: 100 MA. at 120 VAC (12 Watts)
Pulse Input:
Two KY Form A (2-wire) inputs with +13VDC wetting voltage compatible with dry contact or open-collector transistor output. Detachable terminal block.
Maximum Input Pulse Rate:
10 pulses per second
Pulse Value:
.001kWh/p to 655.35 kwh/p, in .0001 kWh increments
Output:
No Hardware outputs; Register reads only
Network Interface:
RJ-45 Ethernet
Protocol:
Modbus TCP
Demand Averaging Interval Selection:
15 minutes
Peak Demand Reset, by channel:
Yes
Reset Cumulative Energy, by channel:
Yes
Reset Cumulative Raw Pulse Count, by channel:
Yes
Mechanical
Mounting:
Any position
Size:
2.30" wide, 4.8" long, 1.50" deep
Weight:
17 ounces
Temperature
Temperature Range:

-38º C to +70º C, -38.4º F to +158º F

Humidity:
0 to 98% non-condensing
Options
Input Voltages:
12VAC. Contact Factory.
All specifications are subject to change without notice.