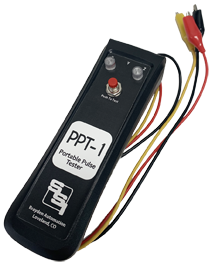 PPT-1 Portable Pulse Tester
The PPT-1 Portable Pulse Tester is a low-cost field tool for testing a meter's KYZ pulse outputs. The PPT-1 supplies its own wetting (sense) voltage to the relay's output terminals and visually displays the closures or "pulses" of that output. It is configured in Form C
(3-Wire) format, but can be used in either Form C or Form A (2-Wire) mode.
The PPT-1 can be used with either mercury-wetted or solid state relay outputs. It is battery powered with two AA replaceable batteries.
Designed for the rigors of the field, the PPT-1 is packaged in a hand-held ABS enclosure. Three leads
with alligator clips are provided in standard Red-Yellow-Black colors for K, Y and Z respectively. Upon
each closure of the KYZ switch, the tester will display continuity between K and Y or K and Z terminals.
Super-bright Red and Green LEDs are sunlight readable to insure that pulse output operation can be
easily observed in the field. A momentary Pulse-to-Test pushbutton switch allows for battery use only
when intended.
Electrical
Power Input:
None – Battery Powered; 2 replaceable AA Batteries
Sense Voltage:
3 VDC
Sense Current:
<10 mA
Mechanical
Mounting:
Any position
Size:
6.00" high x 1.85" wide x 1.35" deep
Weight:
1lb
Lead Lengths:
18"
Lead Wire Gauge:
22 AWG
Temperature
Temperature Range:

-38º C to +70º C, -38.4º F to +158º F

Humidity:
0 to 98% non-condensing
Storage Temperature Range:
-30° C to 80° C
All specifications are subject to change without notice.