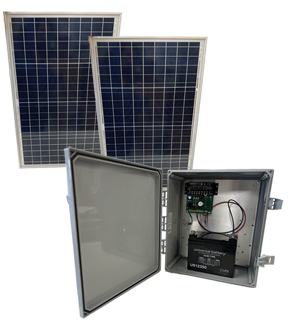 SPS-7 Solar Power Supply
The SPS-7 Solar Power Supply provides a power source remote telemetry when a 120VAC or 12VDC power supply is not be available or when power by a renewable power source is desirable.  The SPS-7 Solar Power Supply is a turn-key solution and includes everything you need to implement a solar-power supply:
Two Solar Panels
Solar Panel Mounting Bracket
Charge Controller
Interface Circuitry
Battery
NEMA 4X Enclosure 24" x 16" x 8
Internal Chassis and Mounting Hardware
A full battery charge results in about two weeks of "hold up" for a 20mA load with no additional sunlight.  All components, except the solar panel, mount inside a 24" X 16" X 8" NEMA 4X high-impact ABS enclosure providing a rain-tight and dust-tight environment, pre-wired for a truly quick and convenient implementation.  Installation is quick and easy. Simply mount the enclosure and solar panel on the supplied bracket. Make the connections of the solar panel and load to the Interface Circuit Board.
Specifications
Electrical
Power Input:
Two 45 Watt Solar Panel
Output Voltage:
12 VDC
Charge Current:
500 mA Max
Battery Capacity:
75 Amp-hour
Battery Discharge Rate:
25 mA
Battery Recharge Time:
Approximately 6 hours
Mechanical
Mounting:
Any position for enclosure; Properly oriented for solar panel
Enclosure Material and Rating:
Fiberglass NEMA 4X
Enclosure Size:
24" wide, 16" high, 8" deep
Weight:
30 pounds
Temperature
Temperature Range:

-38º C to +70º C, -38.4º F to +158º F

Humidity:
0 to 98% non-condensing

Options:

5VDC Output at 1 amp max   (SPS-7-5)
15VDC Output at 1 amp max (SPS-7-15)
All specifications are subject to change without notice.