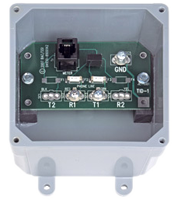 TID-1 Telecom Interface Device
The TID-1 telecom interface device is a low-cost telephone line termination and protection device that provides additional surge protection against transient voltage that may affect the inner wirings of a home or business. Convenient and easy, the connection of an electric meter's modem to the telephone line is simple.
It provides two terminals for standard phone line interface to a modular phone jack (Tip and Ring 1) plus ground.
The TID-1 features a NEMA 3R PVC enclosure and offers excellent electrical insulation. A beaded-gasket lid ensures that the circuit inside remains dry and clean. In addition, the TID-1 provides transient voltage surge suppression to protect the meter's modem from lightning or other electrical disturbances that may affect the telephone line inside the home or business.
The TID-1's mounting configurations incorporates four knockouts for ½" electrical conduit which can be used in a wide range of connection schemes to the electric meter's enclosure.
Electrical
Power Input:
No power required
Insulation Resistance:
50 megohms typical
Mechanical
Mounting:
Any position for enclosure; Properly oriented for solar panel
Size:
4" wide, 4" high, 2" deep
Weight:
~1 pound, depending on mounting configuration
Temperature
Temperature Range:

-38º C to +70º C, -38.4º F to +158º F

Humidity:
0 to 98% non-condensing
Available Options
Input Voltages:
Contact Factory.
All specifications are subject to change without notice.