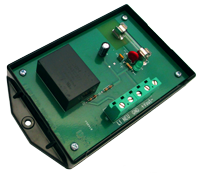 MPS-2 Metering Power Supply
The MPS-2 Meter Power Supply, a low-cost DC power supply option, provides an isolated low-voltage DC wetting voltage designed specifically for KYZ pulse metering applications.
Packaged in the convenient SSI "small footprint" case, the MPS-2 can be used in any application where a wetting voltage is needed to go through a KYZ pulse initiator and into another pulse input device such as a SCADA system, RTU, energy management system, KYZ pulse totalizer, electric meter pulse input or other telemetry or control systems which accept pulses.
The MPS-2 is available in standard outputs of:
MPS-2-12 (12VDC)
MPS-2-15 (15VDC)
MPS-2-24 (24VDC)
The power supply's low-current design provides up to 300mA for the pulse metering circuit. The output is internally current-limited and provides a fuse to prevent damage in the event of a short circuit condition. In addition, the MPS-2 power supply includes MOV transient suppression devices on both the AC power supply input and the DC output.
Electrical
Power Input:
120-277 VAC

Output Voltage:


+12VDC, +18VDC, +24VDC, specified at the time of order

Output Current:


300mA @ 12VDC, 250mA @ 15VDC, Nominal 150mA @ 24VDC

Fuse:

0.1A (100mA)
Voltage Regulation:

0.5%
Mechanical
Mounting:
Any position
Size:
3.27" wide, 5.7" high, 1.50" deep
Weight:
1lb
Temperature
Temperature Range:

-38º C to +70º C, -38.4º F to +158º F

Humidity:
0 to 98% non-condensing
Available Options
Input Voltages:

Contact Factory.
All specifications are subject to change without notice.